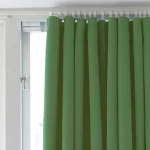 Curtains frustrated ligature-resistance efforts for many years. Designs with U-shaped tracks are disabled by insertion of objects, possibly even allowing a ligature-attachment point. Individual pull-away curtain carriers support small amounts of weight, but they hold a lot of weight if many are pulled on together.
HealSafe Interior of Sweden solved these problems with its patented rail and carrier system. The extruded aluminum rail has no cavities. Sloped endcaps guard pulling on against wedging at the ends. The pull-away plastic carriers have a unique design that keeps them from being aligned when grouped together. This negates attempts to hold substantial weight by pulling on many of them at once.

PRINT/DOWNLOAD SUBMITTAL SHEET
Specifications
Release Force: 12 curtain carriers release at 18 lbs or less as tested by RISE/SP in Sweden.
Rails and End Caps:

Extruded aluminum, white powder coat finish
Available in wall-mount, ceiling-mount, and 90 degree corners

Carriers: Plastic, 2 types for attachment to curtains via hooks or holes
Installation:

Pre-drilled mounting holes on rails, plus 2 holes per end-cap
Requires flat-head security fasteners (not included)
Carriers easily snap on; no removal of parts required to re-hang curtain
Print/Download Installation Instructions